Valentine's day is steadily approaching. It's February 14th, by the way. Hopefully, you're not in the unfortunate position of leaving it to the last minute. If you have, you may find that many places local to you will be fully booked. Leaving you with nowhere to go and an extremely unhappy other half.
Not to worry, in this article, we'll look at some of the best towns in the United States of America to spend Valentine's Day. It's going to be incredibly in-depth. We'll cover the locations, the hotels, and even the activities. Don't worry – we'll let you take full credit for it!
Ready to get started?
Cherry Springs State Park, Pennsylvania
We start our list with Cherry Spring State Park. Picture the scene, encompassed by the natural beauty of the wooded scenery. At night, the skies are picture-perfect for stargazing.
(Although, you may need to have your camera settings right to capture the stars).
This location is perfect for a camping trip. The best thing is you'll be able to create activities as you go along. From intimate picnics, long strolls, and lengthy conversations. Can it get more romantic than that?
In terms of sleeping arrangements, there's plenty on offer. There are secluded lodges to luxury hotels and all at different price ranges.
However, booking something for Valentine's Day can be difficult, so you will have to get in early.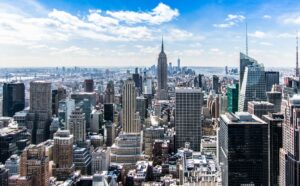 Next up, we have New York. It should be self-explanatory, really. The Big Apple is in a league of its own. With a unique bustling atmosphere, you have the chance to surround yourself and your loved one in the city, which is synonymous with the United States.
There are iconic landmarks to visit, or you can skip straight through to the romantic options. Such as going for a stroll through Central Park or dining in one of the many world-class restaurants. Other options include a horse-drawn carriage ride, a rooftop dinner with a city view, finished off with a Broadway show.
If you're looking to book a stay in New York, there are many options to choose from. However, your budget will definitely be the deciding factor. Additionally, some of the more popular hotels will definitely be booked up well in advance. So, you will need to get something booked early to stand a chance.
The next suggestion for you to celebrate Valentine's Day comes in the form of Savannah. The town is well-known for its stunning architecture. Additionally, the cobblestone streets are lined with Spanish moss-covered oak trees, creating an ambiance like no other. It definitely makes for an amazing romantic getaway.
Now, what do you do in Savannah? Your options are limitless. Starting with the most basic, a candlelit dinner at a historic restaurant. Such as The Olde Pink House or Alligator Soul Restaurant for some upscale southern dining.
Additionally, you could book a sunset river cruise with prices starting as low as $39 per person. It would definitely make for a memorable evening, that's for sure.
Jackson Hole, Wyoming
Next up, we have Jackson Hole. With idyllic mountain scenery laden with skiing and snowboarding opportunities – you can't go wrong! If you're making a trip from elsewhere in the United States, you'll be glad to know that the Jackson Hole Airport is only an easy 36-minute car ride from Jackson Hole Mountain Resort.
In terms of romantic things to do in Jackson Hole, there's plenty on offer. From hot air balloon rides to candlelit dinners with mountain views. There are also opportunities to get booked in for a couples' massage, which would definitely help with rejuvenating and relaxing during this getaway.
Our next addition to the list is Telluride, home to stunning views and many romantic places to visit. Again, another historic city but packed with amazing mountainous scenery. From historic buildings to luxury hotels – Telluride is a great destination for those looking to celebrate Valentine's Day.
With plenty of romantic activities, ranging from visiting local waterfalls to leisurely strolls in Mountain Village. There is a lot to do. A ride on the Telluride Gondola can also make for a fun little activity.
If you're looking to visit Telluride from out of state, the Montrose Regional Airport is the closest and is located 65 miles from the town. However, those 65 miles are pure bliss and packed with some of the best scenery in the United States.
Now when you think of romance, usually the most popular activity is a spa. So what better than to visit a spa town? If you're looking for a getaway to truly relax and embrace something different, maybe to get away from the hustle and bustle of a big city like LA. Then, Calistoga is perfect. Featuring mud baths, geothermal hot springs, and plenty of wine.
In terms of booking a stay in Calistoga, prices can range from as low as $120 all the way up to almost $600 for a one-night stay for Valentine's Day. This, of course, will come down to your choice of where to stay and what you'd like to do.
The closest airport to Calistoga is Santa Rosa Airport, a convenient 13 miles car ride away. Although, there are multiple other airports to choose from if you'll be arriving from other cities.
Oahu, Hawaii
The next town on our list is Oahu. Of course, being located in Hawaii makes it an amazing choice for a romantic vacation. With warm weather, stunning beaches, and lush landscapes – it's definitely a vacation destination. A one-night stay won't really cut it if you're flying from outside of Hawaii, so you may need to factor in a few more days.
However, with sunset beach walks, scenic boat rides, and the chance of intimate dinners with ocean views, you won't want to leave.
For accommodation arrangements, you'll be spoilt for choice. From luxury hotels to all-inclusive resorts – there is a lot on offer. Again pricing will be the biggest deciding factor on what and where you choose.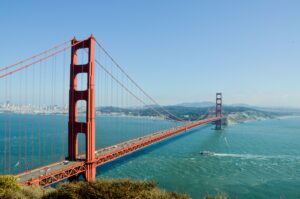 The next city on our list is San Francisco. Another iconic city in the United States. Nestled with iconic landmarks, a bustling atmosphere, and plenty of attractions to keep busy. You're likely to find a plethora of options on how to spend your Valentine's Day, so you definitely won't be stuck for a choice. Just the sight of Bay Bridge at night may be enough to make it a memorable Valentine's Day that you'll cherish for years to come.
In terms of accommodation, again there's no shortage. Whether you leave it last minute or book well in advance, there'll be something available to suit all budgets and requirements.
Next up from the state of Georgia, we have Atlanta as our next offering as an ideal romantic getaway. Featuring a unique artistic community to admire, scenic parks to stroll through, and iconic landmarks to view in awe,
To make it a truly romantic experience, consider reserving a table at one of the elegant restaurants for an intimate dinner. Also, make sure to book a hotel worthy of the occasion, with options ranging from the Ritz-Carlton chain to more tailored experiences.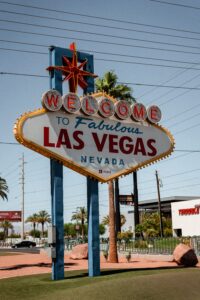 Next up, Las Vegas. It may not be the first to come to mind when thinking of romantic cities. But hear us out – it doesn't have to just be a bachelor's night-out destination. It can also make for a romantic getaway. Although, it can depend on personal preferences.
However, with the opportunity for high-end shopping, casinos to enjoy, and unique yet iconic entertainment – there's a lot going on! The luxury and extravagance in Vegas are what some people really enjoy, and that's why we've included it in this list of valentine's day destinations.
However, for more romantic experiences, you can partake in world-class dining at the many restaurants, booking in a couples' spa treatment, or view spectacular shows.
There are also plenty of accommodation options to choose from. From high-end to budget options. Although, as it's Valentine's Day, we definitely recommend splurging, at least a little. It's Vegas, after all!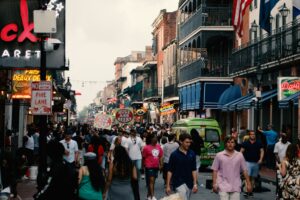 Our next suggested romantic city for Valentine's Day is New Orleans. From Jazz music and iconic historical architecture to mouth-watering creole cuisine. New Orleans will definitely make for an experience like no other.
Although it is more popular as the Mardi Gras destination of choice, New Orleans has a vibe that can fit many other occasions. Valentine's day is one of them.
If you choose to select New Orleans, be sure to enjoy an intimate dinner at one of the many romantic restaurants such as Bayona or Irene's. As we mentioned earlier, New Orleans does have a fine selection of creole cuisine. However, there are plenty of other types of cuisines available too.
Next up is a smaller town offering Traverse City as a Valentine's day destination. With an array of scenic parks, a charming small-town atmosphere, and some of the best beaches in Michigan, the city is perfect for those looking for a getaway,
An ideal Valentine's Day itinerary would feature a hike or relaxing on the beach, followed by an intimate picnic or a candlelit dinner. You could then follow that up with relaxing in one of the many spas available in the city.
Next up, we have Portland. Packed with scenic parks and an artistic community, it's definitely one of the best towns for a valentine's day getaway. However, what you do there would depend on personal preferences, as options range from scenic walks to intimate dinners or gallery visits. Spas are also available, perfect for finishing a romantic getaway.
In terms of where to stay, there's plenty on offer, from boutique hotels to luxury options. But, of course, the decision will ultimately be yours. Our personal favorite is The Nines, which provides a modern and romantic getaway for all types of couples.
Our next destination provides a great place to enjoy winter sports. Stowe is a great choice for an active couple, from skiing to snowboarding. There are plenty of hiking opportunities and even an ice skating arena to enjoy.
However, even if you just wish to embrace and enjoy the mountain scenery, you can pack your Valentine's Day with a couples' massage followed by a candlelit dinner.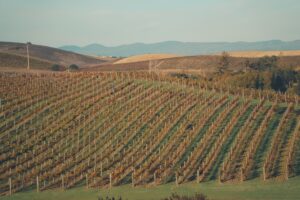 Next up, a great getaway for wine lovers. Napa Valley is world-renowned for being a wine country. With scenic vineyards and elegant wineries, it's an ideal place to enjoy a romantic getaway.
Be sure to book a scenic vineyard tour before enjoying a wine tasting. Additionally, there are multiple accommodation options to choose from, some located within unique vineyards. It's definitely a place to enjoy all things wine.
Jackson, New Hampshire
The next romantic city for a Valentine's Getaway is Jackson. Jackson is an amazing city featuring the iconic New Hampshire mountain scenery. Filled with a beautiful small-town atmosphere, it can make for a romantic escape.
Take part in scenic hikes, an intimate picnic in the park, or candlelit dinners at a local restaurant. In terms of accommodation, there's plenty on offer, from mountain resorts to idyllic spa retreats. There's plenty for everybody.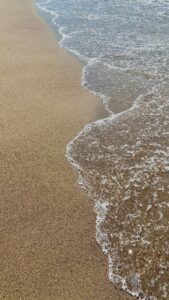 Our next city on the list is Key West. Featuring warm weather, stunning beaches, and historical landmarks – this charming city makes for a great place to enjoy a Valentine's getaway. You can enjoy a sunset beach walk, a scenic boat road, or perhaps an intimate dinner with ocean views.
There are also spa days and massages that you can enjoy. For a thorough romantic experience, look no further than Key West. Additionally, in terms of where to stay – you'll be spoilt for choice. Although, pricing may vary, especially during busy seasons, in which February does fall. However, it'll be worth it for a vacation valentine's day getaway.
The next city on the list is another beach destination. Carmel-by-the-Sea offers scenic beaches, a quaint atmosphere, and elegant restaurants. Again, there'll be no shortage of things to do. From romantic walks on the beach, intimate dinners at local restaurants, and even just enjoying the local amenities.
In terms of hotels, there's plenty on offer. Some of the designs of the hotels are truly unique. Our personal favorite is the Centrella Hotel. It truly looks and feels unique, with beautiful decorations, convenient amenities, and an affordable price to go with it.
Our next city follows the beach destination trend with Naples and Marco Island. With warm weather, idyllic beaches, and scenic parks. It's a great destination to relax, recharge, and rejuvenate. A great place to enjoy a Valentine's Day retreat.
Enjoy sunset walks and dinners at one of the many local restaurants. We recommend Sale e Pepe for some beautiful southern Italian seaside dining.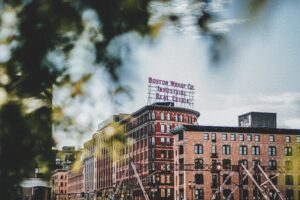 Taking a break away from the beach destinations – our next recommendation is Boston. With plenty of iconic landmarks and historic architecture, it can be a great destination for history enthusiasts.
Additionally, with a great selection of unique hotels and amazing restaurants – there's enough here to make for a truly memorable romantic evening.
Next up, we have Palm Springs as an addition to our list of the most romantic cities. With amazing weather, scenic desert landscapes, and many luxurious spa resorts to visit. There's plenty on offer. You'll be able to create an itinerary packed with romantic activities.
You can choose from couples' spa treatments, desert hikes, and many amazing dining options.
Unique Features: Warm weather, scenic desert landscapes, and luxurious spa resorts
Next up is the historic city of Charleston. Another city packed with historic architecture, scenic parks, and an amazing small-town atmosphere. With unique cobblestone streets, cozy hotels, and sunsets with amazing scenery.
Taking a stroll through the historic neighborhoods would provide an amazing romantic experience. We recommend checking in to The Restoration to enjoy a chic hotel during your romantic stay.
Maui, Hawaii
Next up, our second city from Hawaii. Packed with warm weather, stunning beaches, and of course, lush landscapes. Truly amazing and will definitely make for the perfect Valentine's day getaway. Additionally, it's an amazing place to explore, with a plethora of secluded beaches.
As you'd expect with any holiday destination, you can enjoy scenic boat rides, beach lounging, and all the other activities associated with beach getaways.
The Poconos. Pennsylvania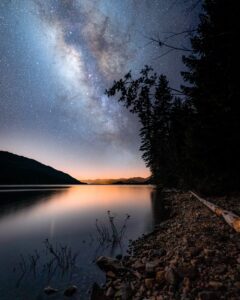 Our next suggestion comes in the way of The Poconos. You're definitely spoilt for choice with many different towns to select from and where to go. However, it truly has a romantic atmosphere you must experience for at least one romantic getaway.
We have previously covered the best towns in the Poconos, be sure to check that article for some inspiration if you're stuck on where to go.
Our final city on the list of best towns for Valentine's day is Park City. Packed with amazing mountain scenery and opportunities for winter activities. It definitely has a romantic atmosphere. Some of the activities you can include in an itinerary are sleigh rides, hikes, and other outdoorsy activities. After you're done with the outdoor activities, warm up with a hot chocolate and enjoy the scenery of this winter wonderland.
Many hotels in Park City include a hot tub; some even include outdoor ones where you can enjoy the night sky. Can it get any more romantic?
Where is the best place to spend Valentine's Day?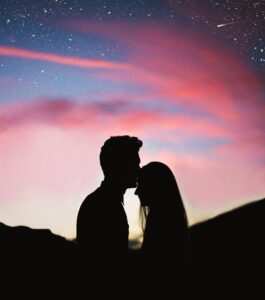 It's entirely subjective. But in our opinion, to make a truly memorable Valentine's Day experience consider visiting a new city. Why? Because a new city or a new location is like a blank canvas. You'll be able to paint whatever memories you like. Then, in the years to come, you'll also have a place or location in mind where you can go to reclaim precious memories.
Traveling is a great romantic activity in and of itself. Everybody likes to catch flights. With America being home to many unique cities, why not try and visit somewhere different and escape the usual sights and sceneries?
You can always have a romantic dinner or visit a spa in your local city, but having a romantic weekend in a different place can make it an even more special experience.
What are the most romantic activities for couples?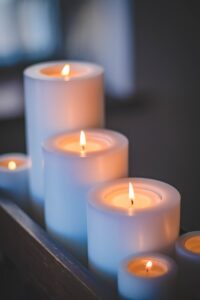 Still struggling with an itinerary of what to do? Here are some quick suggestions that you can consider:
Hot air balloon ride
Spa date
Theme parks
Romantic restaurant – Great food is a must!
Candlelit dinner
Walks and hikes
Enjoying scenery
Dinner Cruise
Picnics
Shopping
Sporting activities
Wine-tasting
Food tour
Sunset cruise
Final Thoughts
Valentine's day just got more eventful. From the warm beaches of Hawaii and Florida to the scenic mountains of Tennessee and New Hampshire, there's something for every couple to enjoy.
Hopefully, one of these 25 romantic valentine's day getaways will help you to create a special occasion to celebrate your special relationship. With many romantic destinations on this list, it should provide enough suggestions for years to come.
So no matter your preferences, we're sure there's something for everybody packed within this list.
We hope you enjoyed this article; feel free to browse the rest of our site for even more exciting and informative content.