If you're welcoming a new neighbor, one of the ways you might do it is through a welcome to the neighborhood card. Writing cards and introductions come with experience. The task can seem incredibly daunting if you haven't had to write one in a while.
But don't worry, you're in the right place. We will talk you through everything you need to know., including an example of what to write in the welcome to the neighborhood card.
Why would you give a welcome to the neighborhood card?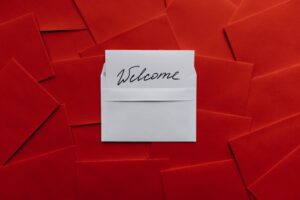 So to start with, you may be wondering why you would give a welcome to the neighborhood card. Sending a card allows you to introduce yourself to your new neighbor. Neighbors have a significant impact on your social life.
Research shows positive relationships with neighbors can improve well-being in both middle and later life. Regardless of age, having a close community can enhance your mental well-being.
In today's society, the most common interactions take place online. Having a physical community is quite rare today. Previously, childhood memories would have involved interactions with neighbors and the local community. That is where initial friendships would have been forged.
Through the act of sending a card to your new neighbor, you, too, can develop new friendships. More importantly, if you have a family, it may even help your children create memories.
What is the custom with welcome to the neighborhood cards?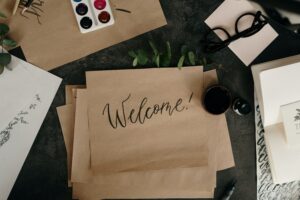 Customarily, welcome to the neighborhood cards are given alongside a gift. This is to send a message of welcome and help develop friendships. The new neighbor introduction card should feature a welcoming message to introduce yourself. It should be sent to encourage communication. A letter introducing yourself to neighbors can allow you to express this sentiment. Moreover, receiving a well-written card can help your neighbor feel at ease.
Do you need to give anything else with a welcome to the neighborhood card?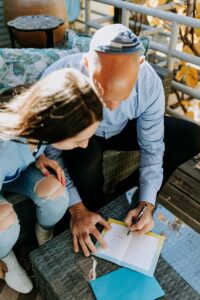 Ordinarily, if the budget permits, you should consider adding a gift with the card. This will only improve upon the initial impression that your new neighbors will receive. However, you don't need to give anything extravagant or expensive. Maybe a cake, a bottle of wine, or even a potted plant. If you're unsure what to give with the card, read our guide on the best welcome-to-the-neighborhood gifts. If you don't have time to get a gift together, a welcome to the neighborhood card can still suffice.
When taking a welcome-to-the-neighborhood gift, what should you say?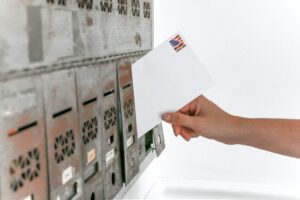 If you are nervous about initial interactions with new people, then don't worry; it is quite common. On the other hand, perhaps you're quite outspoken and don't want to give off the wrong impression.
Whatever the case, by taking a gift, you will look welcoming enough. Approach the initial conversation as friendly as you can.
Begin by introducing yourself, where you live and how long you've lived there. Then give your neighbor a chance to answer similar introductory questions. You can then proceed to hand your new neighbor the gift and welcome to the neighborhood card. Ensure you judge the situation accordingly throughout this process. You may find your new neighbor to be friendly enough to continue the conversation. However, they may be tired from moving and so feel free to excuse yourself. If you feel a connection, you can ask them to organize a time to meet up again less formally.
How soon should you give a welcome to the neighborhood card?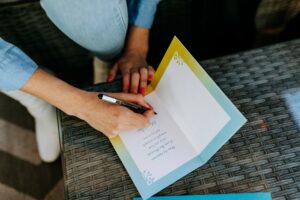 Ideally, you should give a welcome to the neighborhood card the day after your new neighbor has moved in. If time permits, that is. You may feel inclined to give your new neighbor the card whilst they are moving in. However, spare a thought for how busy or tired they look. The last thing you want to do is cause your new neighbor inconvenience. Allow them to get settled into their new home.
When you get the chance, knock on their front door and introduce yourself and then maybe spend some time talking, you may be able to pass on some helpful tips and ideas to your new neighbor.
There's also nothing wrong with leaving the greeting card on their front porch or letterbox. Whatever makes sense.
What do you write in a welcome to the neighborhood card?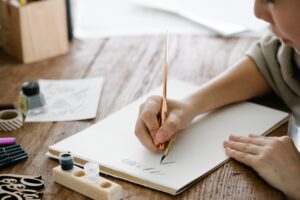 On to the most difficult part, what do you write in a welcome to the neighborhood card? There are many ways that you can approach this.
Initially, start with addressing the new neighbor. That can be done by referring to them as new neighbors or even their door or flat number. It's up to you how formal you wish to make the letter. Remember, there is no right or wrong way!
Next, be sure to write a nice message. This can include congratulating them on the move and giving your best wishes.
Again, this can be as formal as you'd like. Following the message, you can begin to introduce yourself. You don't want to forget to make sure to include who the new neighbor's introduction card is from. You can describe yourself here by name, door number, or family name. If you feel like being helpful, you can also offer your assistance at this point.
An example of a welcome-to-neighborhood card message would look like this:
Hello there new neighbors!
It's Alan and Mary here from number 7 – (your new neighbors on the left).
We just wanted to welcome you to the new neighborhood and send you our congratulations on the move to your new home! We've been here a relatively long time, so feel free to pop over if you have any questions or need any help with anything at all!
Don't hesitate at all!
If we're not home, our number is ###-###-####; we'll be sure to help you in any way we can!
All the best,
Your new neighbors at Number 7 (Alan & Mary)
Bottom line
Welcome to the neighborhood cards don't have to be over the top and can be as personable as you like. Just remember, it's the thought that count! There's no need to make it any more stressful than it has to be, and who knows, maybe you're just writing a note to some new friends.
There you have it, our guide on welcome to the neighborhood cards and what to write in them. Be sure to check out the rest of the site for even more helpful information and articles!