The United States of America is known for food. There's just no denying it. When you think about the most authentic American food items you think of hot dogs, burgers and of course a plethora of fast food. You may (or may not) be surprised then that there are many American foods with origins within American cities. We have decided to curate a list of American food items named after cities and places which you can then hopefully use to decide what to have for your next breakfast, lunch or dinner. So grab your knife and fork and dig in.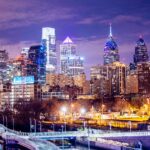 First up on our list of American foods is the Philly Cheesesteak. You guessed it, it's named after no other than Philadelphia. The origin of the Philly Cheesesteak is documented by Visitphilly.com who state that Pat Olivieri who was a hot dog cart owner in South Philadelphia wanted to have steak for his lunch and paired it with an italian roll. A cab driver then came across Olivieri and requested the same for his lunch. Soon, it had become a hit and cabbies from all over were coming for the steak sandwich. It wasn't until the 1940's that cheese was added to create the infamous Philly Cheesesteak. Pat Olivier then went on to open a restaurant named Pat's King of Steaks which is still open to this day! So what's in a Cheesesteak? It consists of thinly-sliced chopped ribeye steak. With a topping of Cheez Whiz or melted American cheese and additional toppings like fried onions or peppers. Sounds good right?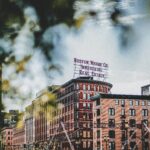 Next up on our list of foods named after American cities is the Boston Cream Pie. Surprisingly, it is actually a cake, specifically a sponge cake. There are two layers of creamy vanilla custard and then it is topped with a rich chocolate icing. There are multiple variations of the Boston Cream Pie including a donut. The original, however, is credited to have been created by Chef Anezin at the Omni Parker House, a hotel with a restaurant which has been around since 1855 and is also still open to this day and yes, they still serve the Boston Cream Pie.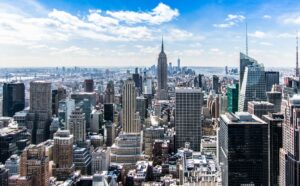 The next American food name after a US city on our list hails from New York. It is the New York Cheesecake. Now you might be wondering how a cheesecake can be different from the rest? The New York Cheesecake features a denser, smoother and creamier texture due to the additional cream cheese added to the recipe. The origin of the New York Cheesecake is highly disputed, but Arnold Reuben, the founder of Reuben's Restaurant and Delicatessen and The Turf Restaurant staked his claim for the creation of the New York cheesecake in the 1920s. Nowadays, the New York Cheesecake is widely available.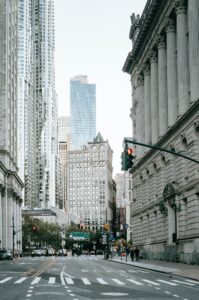 Next on our list we have Buffalo wings originating again from New York. They are chicken wings that have been deep-fried, slathered in a tangy and spicy hot sauce made from vinegar and cayenne which is mixed butter and served with celery slices and blue cheese sauce. It is noted by nationalchickencouncil.org  that the Buffalo chicken wings came to premonition in 1964 at the Anchor Bar in Buffalo, New York where the co-owner Teressa Bellissimo cooked leftover wings in hot sauce as a late-night snack for her son and his friend.  It was such a hit then and continues to be a hit today. Due to it's foundation in the city of Buffalo, it is now a food item named after a US city and so makes it on to our list.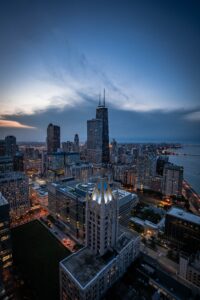 Next up on our list, we have the Chicago-style deep dish pizza. This American food item is pizza that has been prepared according to different styles that have been developed in the city of Chicago. Specifically, the pizza is made using an iron skillet or a round pan which allows the pizza to gain "walls",  this allows for copious amounts of cheese, chunky tomato sauce and extra layers of toppings to be added. Think of it as a supersized pizza guaranteed to hit the spot. As this style of pizza originates form Chicago, it is an example of a food item name after an American city.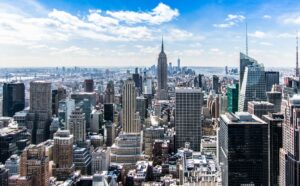 The next American food item we have on our list is another feature from New York which is the coveted New York style pizza. The New York style pizza has a characteristically large thin crust which is often sold as a wide slice to go. It is often eaten by being folded in half which makes it more convenient. With other types of pizzas you would need to sit down to eat, the New York style pizza is more of a food to go type of meal which is quite different to the Chicago style pizza. There are various restaurants and fast food chains where you can try the New York style pizza.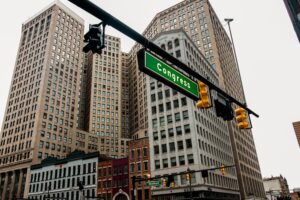 Last but not least, we have added Detroit Style Pizza to our list. It is another take on a pizza named after a city similar to the previous one. The Detroit Style Pizza consists of a rectangular shape with a thick crust that is also crispy and chewy. The cheese on top overflows so that it extends over the edges which allows the bottom layer of the crust to have the crispy texture. Definitely a prime example of uniquely American food that is a must try.
So there you have it. We hope you enjoyed our list of some American foods that have been named after US cities. This list is definitely not exhaustive but we hope it will have provided a unique insight. If you enjoyed reading this article and want to learn more about other US cities please browse our site and have a look through the range of information that we have available