Considering a move to Seattle? Maybe you're curious about where and which neighborhoods in Seattle are the best to raise a family and settle down long-term. While Seattle is a very busy place, rest assured there is plenty on offer that will allow you and your family to adjust to the city lifestyle. The seaport city of Seattle boasts an active outdoor culture and mild winters will ensure you can enjoy the outdoors throughout the entire year. With the great quality public schools also on offer in Seattle, it makes for a great city for families to settle and live in. The variances in the different neighborhoods will also allow you to find somewhere that is perfect for your family depending on individual preferences. We have made a list of our ten best neighborhoods in Seattle for families to settle down. This list is subjective and ultimately you will have to weigh up the pros and cons to decide which is best for you.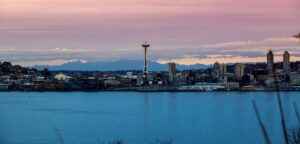 Queen Anne
To begin our list of the ten best neighborhoods in Seattle for families to settle down we start with Queen Anne. This neighborhood is home to the most iconic Seattle feature, the Space Needle. Queen Anne also features a blend of commercial hubs and residential areas, so if you're able to secure a job within the area then it will be great to have a greater quality of life with a minimal commute. Additionally, as children grow up, through to their late teens it will make it easier for them to find part-time jobs alongside studying. There are also various music and cultural festivals which take place in Queen Anne which no doubt will keep your family entertained through the years to come.
Lower Queen Anne / Uptown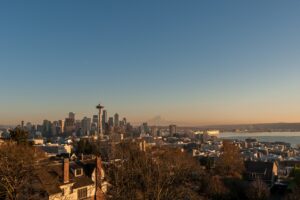 The next city on our list of best neighborhoods in Seattle for families to settle down is Uptown, formerly known as Lower Queen Anne. This neighborhood is situated at the base of Queen Anne Hill and is home to multiple entertainment and shopping locations. The area again has a mix of commercial and residential areas which provides a great city feel. There are also multiple educational facilities all within easy reach which again makes Uptown a great place to raise a family in Seattle.
Wallingford
Our next suggestion for the best neighborhoods in Seattle to raise a family is Wallingford. This neighborhood can be found in north central Seattle along the north shore of Lake Union. It can be best described as a busy residential area, jam-packed with things to do. With a zoo and a park all in close distance, along with restaurants and local businesses there really is lots happening. With a great public transportation system in the area, it is perfect to raise a family.
West Seattle
Our next suggested best neighborhood in Seattle to raise a family is West Seattle, located on a peninsula featuring Aiki Beach. There are lots of outdoor activities on offer in this laid-back residential area. The idea of raising a family in this neighborhood, located in a city that features a beach is quite simply unheard of to many people. Definitely, a neighborhood of Seattle that you most definitely need to consider if it lines up with your personal preferences.
Ballard
The next suggested best neighborhood in Seattle is Ballard, Another waterfront neighborhood packed with restaurants, shops and local businesses which provides enough entertainment to keep families of all sizes busy. Ballard is also one of the oldest neighborhoods in Seattle which makes it a definite addition to our list as people have raised many families in this neighborhood over the years.
Laurelhurst
The next best suggested neighborhood to raise a family is Laurelhurst. Located next to Lake Washington it is one of the safest neighborhoods in Seattle. Residential properties in this neighborhood are more expensive than the average but when you see the beautiful scenery and properties in the area, you'll definitely understand why. So this neighborhood is ideal for those families looking to settle in Seattle who have some money to invest.
Greenwood
Our next best-suggested neighborhood for families to settle down in Seattle is Greenwood. With access to both Green Lake and Carkeek Park, there is no shortage of land-based and water activities on offer. The neighborhood also features multiple cafes, restaurants and local businesses to keep families busy. Due to this, the quality of life would be amazing and is therefore definitely a neighborhood in Seattle you must consider to raise a family.
Fremont
The next city on our list of best neighborhoods in Seattle to raise a family is Fremont. Definitely not the most conventional neighborhood however the quirky nature and eclectic street art, it is definitely a unique neighborhood. There are plenty of shops, whether it's cafes or local businesses that will provide everything you need for you and your family.
Madrona
Our next suggested best neighborhood in Seattle to raise a family is Madrona. It is a quiet neighborhood located on the shores of Lake Washington with access to walkable amenities which are continuously being developed. Due to Madrona's location there are plenty of entertainment amenities that are closeby guaranteed to keep your family entertained.
Capitol Hill
Our final suggestion for the best neighborhoods in Seattle is Capitol Hill. It is quite a densely populated residential area but is one of the best places in Seattle to get a feel for city life. Whilst it is one of the most popular nightlife and entertainment districts, Capitol Hill is the best for a unique experience. It is definitely not for all families and depends on personal preference but because of its uniqueness, Capitol Hill is definitely worth a mention on this list of best neighborhoods to raise a family.
If you are looking to move to Seattle or have already moved but are looking for things to do then you should definitely check out the following.
This online marketplace connects buyers and sellers of live event tickets. It's a great way to find deals on last-minute local events which means not only do you save money but you get to experience things you may not have thought of otherwise. Definitely, a fantastic way to save money and treat the family!
You can also find events in your area with Eventseeker.com. They provide a comprehensive list of events and locations with dates and times that you can then browse through at your pleasure. You will almost definitely find a great activity suitable for you and your family to take part in within Seattle! 
There you have it, that's our top ten neighborhoods in Seattle to raise a family. We hope you found this article useful and were able to identify neighborhoods of interest for yourself. Feel free to browse the rest of our site for even more useful articles.