Dallas hailing from Texas is a great city which boasts numerous neighborhoods, over a hundred of them! So if you're thinking of moving to Dallas, it's definitely no easy task to select one neighborhood. With so much on offer throughout Dallas, ranging from cultural iconic sentiments to commercial offerings, there is a lot to consider! Our own internal ranking system used to rank the cities of the United States of America has identified Dallas as having one of the cheapest living costs across the country with a score of A+. To identify the best neighborhoods in Dallas, we have looked at a range of information from individual offerings to location. However, we have not ranked any as being the best neighborhoods but rather have curated a list of ten to allow you to make the final decision.
Deep Ellum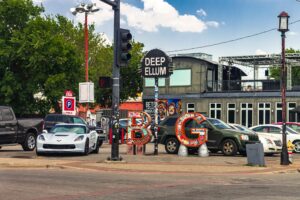 Starting off our list of best neighborhoods in Dallas that you may want to move to, we have Deep Ellum. This neighborhood is the music capital of North Texas and is a lively entertainment district with over 30 live music venues. There are also plenty of restaurants, cafes and bars available throughout the neighborhood. So if you are a fan of music and want to be somewhere where it can all be on your doorstep, you should definitely consider moving to this neighborhood in Dallas.
Prestonwood
The next neighborhood in Dallas that you should consider moving to is Prestonwood. Located in Far North Dallas, one of the key inviting characteristics of this area is its community values. With a suburban feel, Prestonwood offers safety and affordability whilst also offering great schooling facilities for the younger generation. The residents of Prestonwood are mixed among multi-generations which adds to the overall community feel. So if you have a family, then Prestonwood may be one of the best neighborhoods in Dallas for you!
Bishop Arts District
Next up, the best neighborhoods in Dallas offer Bishop Arts District. Located in the Oak Cliff Area of Dallas, this neighborhood is mostly known for its entertainment offerings. With a diverse nightlife, shopping options and multiple dining offerings, Bishop Arts District will definitely keep you entertained. If you need to have these options to keep you busy then you should consider this neighborhood as the best in Dallas for you to move to.
Lower Greenville
Our next best neighborhood in Dallas for you to move to comes from East Dallas. Lower Greenville is a perfect neighborhood for students to move to in Dallas due to its proximity to multiple colleges and universities. And of course, once students are done studying, there are plenty of restaurants, bars and even a unique theater to keep them busy after-hours!
Uptown
The next best neighborhood in Dallas that you may want to consider moving to is Uptown. Located in Downtown Dallas, this neighborhood is great for young working professionals to network. With multiple bars, restaurants and even sports bars there's no shortage of venus to network and meet other like-minded individuals in Dallas. Additionally, Uptown is also a PID (public improvement district) which means there is a key focus on economic development. With an environment that attempts to combine entertainment, business and culture Uptown is a great neighborhood in Dallas to consider moving to.
Lake Highlands
Next up, we have Lake Highlands as a neighborhood in Dallas for you to consider moving to, it is located in Northeast Dallas. It is a largely residential area which features multiple quiet suburbs and is a great neighborhood for families and young couples to move to. With multiple public and private schools, Lake Highlands is perfect to set up shop and raise a family.
Preston Hollow
The next neighborhood in Dallas that you may want to consider moving to is Preston Hollow located in North Dallas. It is home to many of the elite including the former 43rd President of the United States George W. Bush and other celebrities, millionaires and at least five billionaires. So rest assured you can imagine the level of security and safety that Preston Hollow has to offer. There are also award-winning private schools located nearby which makes Preston Hollow a great neighborhood to call home.
White Rock
Next up, from East Dallas we have White Rock as a neighborhood in Dallas that you may want to move to. Located around White Rock Lake, this neighborhood offers a scenic location compared to most city neighborhoods. This neighborhood is therefore great for those who love to stay active, walk or enjoy the outside as the location itself is fantastic.
Lakewood
The next best neighborhood on our list of places to live in Dallas is Lakewood. It is also another neighborhood situated along the west shore of White Rock Lake. Again with idyllic outdoor scenery with hiking or biking on offer, Lakewood offers plenty of outdoor activities and is enough to keep families busy. The area itself has been a neighborhood since the 1900s so there is also plenty of history and makes it one of the more established neighborhoods that Dallas has to offer.
Bluffview
The final best neighborhood in Dallas that you may want to consider moving to is Bluffview. It is a more upscale neighborhood in Dallas and retains a dense suburban feel. With over 4000 residents, it is more populated than other neighborhoods mentioned on this list. As the name implies, Bluffview is home to a 60ft bluff which provides some form of scenery. All in all, whilst Bluffview may be slightly more expensive, for a unique neighborhood you may want to consider moving here.
There you have it, that's our ten recommended neighborhoods in Dallas that you may want to consider moving to. If you are considering a move to Dallas or have recently moved but are looking for things to do then you should definitely check out the following.
This online marketplace connects buyers and sellers of live event tickets. It's a great way to find deals on last-minute local events which means not only do you save money but you get to experience things you may not have thought of otherwise. Definitely a fantastic way to save money and treat the family!
You can also find events in your area with Eventseeker.com. They provide a comprehensive list of events and locations with dates and times that you can then browse through at your pleasure. You will almost definitely find a great activity suitable for you and your family to take part in within Dallas!
Feel free to browse the rest of our site for even more helpful content on the many cities and areas of the United States of America!